Hoof problems, a common and often very hindering problem for your horse. If your horse has hoof problems, it is not only painful for your horse but there is also a chance that the horse will develop an irregular gait. As your horse is trying to relieve the painful leg reducing pain it usually develops an unnatural gait. It is therefore important to solve the hoof problem with your horse as quickly as possible to prevent the irregular gait to cause new medical issues in the future. Unfortunately, treating a problem in the horse's hoof is not always easy. Without radical chirurgical...
---
• activo-med • hoefproblemen • horse recovery • magneet therapie • pulsed magnetic therapy • therapie voor paarden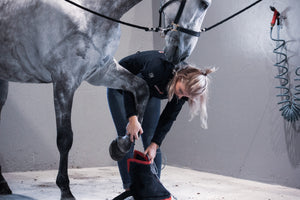 Hoefproblemen, veel voorkomend en vaak ook zeer belemmerend voor uw paard. Als uw paard hoefproblemen heeft is dat niet alleen pijnlijk voor uw paard maar is er ook een kans aanwezig dat het paard een verkeerd looppatroon ontwikkelend. Dit omdat uw paard het pijnlijke been zal proberen te ontlasten. Zaak dus om het hoefprobleem bij uw paard zo snel mogelijk te verhelpen. Helaas is het behandelen van een probleem in de hoef van het paard niet altijd even makkelijk. Zonder ingrijpende behandelingen is het lastig om 'in' de hoef van uw paard te behandelen. Maar Activo-Med heeft daar iets voor...
---
There are many types of therapy systems for horses on the market. It can be so daunting that you simply give up researching what exists. This is such shame as we truly believe that with the right therapy systems you can make the life of your horse so much better and improve your results drastically!
Together with Glasten Krapels, Marion from Activo-Med explains the therapy systems that Activo-Med produces for horses in the video.
The 4-W's
Together we answer the 4 W's: What, What for, Why and When? What systems are there for horses? What are they used for? Why and when do you treat your horses with these systems? 
---
Er zijn vele maten en soorten therapiesystemen voor paarden op de markt maar soms zie je door de bomen het bos niet meer!
Samen met Glasten Krapels legt Marion van Activo-Med in het filmpje uit welke therapiesystemen Activo-Med levert en waar ze voor kunnen worden gebruikt.
Wij beantwoorden de 4 W's voor je; Wat, Waarvoor, Waarom en Wanneer?
Wat van systemen bestaan ervoor paarden? Waar dienen ze nou precies voor? En, Waarom en Wanneer behandel je, je paard er mee?
---
• Aqua Therapy • Aqua Trainer • horse recovery • Hydroterapy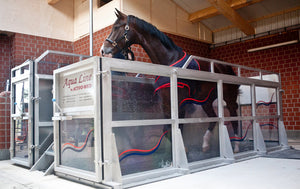 There are many riders who have heard of Aqua Training for horses but what are the benefits of Aqua training? & why do people decide to give horses Aqua Training? This blog posts explains you all the benefits & gives an insight of when Aqua training is used.